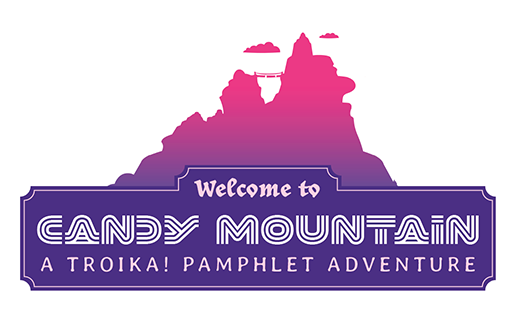 Welcome to Candy Mountain
The story so far: Created centuries ago with dark magics informed by gluttony, cast by a wizard who has since lost interest, Candy Mountain stands as a blemish of sweetness protruding from an otherwise bland countryside. The inhabitants of the mountain, who were also affected by the strange enchantment, went about their daily lives. Until...
---
Welcome to Candy Mountain is a pamphlet adventure for the science-fantasy RPG, Troika! Created for the Troika! Pamphlet Adventure Jam. Print, fold, play.
Side with the Candy Crone and summon a gargantuan Lemon Titan to crush the Sugar Queen. Or! Bow to the Sugar Queen and stop the Candy Crone from exacting her revenge. Or! Forget all that and seek out a source of pure sugar crystals for Doctor Xaraqus and complete the lens of the temporal telescope.

What's in the pamphlet?
The Candy Being Extruder: A table to generate random combinations of Candy Beings. Chocolate Beasts, Waffle Knights and Nougat Spectres await you!
Locations and Happenings: A map with one dozen locations, filled with prompts for random happenings and narrative inklings.
Sweet Items: A list of fourty (plus one) candy-themed items, including common items, special items and magic beans of the jelly variety.

"Welcome to Candy Mountain" is an independent production by Cog 5 Games and is not affiliated with the Melsonian Arts Council.
Version: 1.1
Download
Click download now to get access to the following files:
Welcome to Candy Mountain.pdf
5 MB